Scripture Verse
2 Timothy 4:2-4 "Preach the word; be instant in season, out of season; reprove, rebuke, exhort with all longsuffering and doctrine. For the time will come when they will not endure sound doctrine; but after their own lusts shall they heap to themselves teachers, having itching ears; And they shall turn away their ears from the truth, and shall be turned unto fables."
Good Resources
The Positive Confession Word of Faith Movement
This document has a very important warning that every person needs to know. The word of faith movement teaching can cost you your life or the life of a loved one when it comes to their teaching on faith healing, and it has cost the lives of countless people already. It grieves me deeply to be erecting this web site as speaking negatively about anyone is not something I like to do and would most definitely rather not be doing, but personal experience has revealed to me that it has to be done to save lives.
What is the Word of Faith Movement?
The faith healing movement is not a denomination and has no formal organization or hierarchy. It is simply a movement that is influenced heavily by a number of high profile pastors such as Kenneth Hagin, Kenneth Copeland and Benny Hinn.
The movement grew out of the Pentecostal movement in the late 1900's. Its founder was E. W. Kenyon who studied the metaphysical New Thought teachings of Phineas Quimby.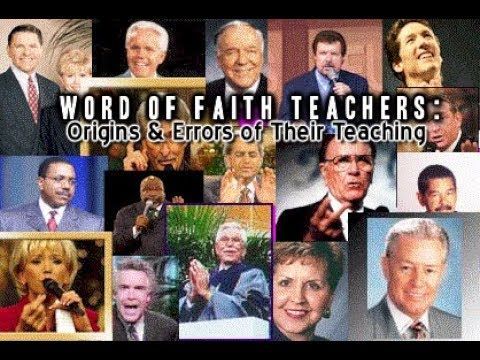 This "name it and claim it" movement originated from mind science, which was combined with Pentecostalism resulting in a weird mix of orthodox Christianity and mysticism. Kenneth Hagin in turn studied under E. W. Kenyon which resulted in the word of faith movement as we know it today.
Many preachers have been influenced either directly or indirectly by Kenneth Hagin such as Creflo Dollar, Joel Osteen, Joyce Meyer, Jerry Savelle, Paul and Jan Crouch, Fred Price and Bill Winston. Although individual teachings range from completely heretical to completely ridiculous, what follows is the basic theology most word of faith preachers align themselves with.
The heart of the faith healing movement is the belief in the "force of faith." The proponents believe that words can be used to manipulate the faith force and so believe that scripture promises health and wealth etc. The supposed laws governing the faith force are said to operate independently of God's sovereign will and that God Himself is subject to these laws. This is blasphemous and idolatry in turning our faith and ourselves into little gods.
The theology of this movement claims that God created human beings in His literal, physical image as little gods. They say that before the fall of man, we could call things into existence by using this faith force. But after the fall of man, we took on Satan's nature and lost the ability to call things into existence. So to correct this situation, Jesus Christ gave up His divinity and became a man, died spiritually, took Satan's nature upon Himself, went to hell, was born again and rose from the dead with God's nature. To finalize all this, Jesus sent the Holy Spirit to replicate the incarnation in believers so they could become little gods as God had originally intended.
So as little gods, we again have the ability to manipulate the faith force and become prosperous in every area of life. Sickness and sin are said to be the result of a lack of faith and are remedied by positive confession, and so claiming God's promises for oneself into existence. So to put it simply, the word of faith doctrine exalts man to god status and reduces God to man status. This teaching does not take into account what scripture states and instead relies on personal revelation to come up with such absurd unbiblical beliefs.
God alone is the sovereign Creator of the universe and does not need faith and is the object of faith. Man was created in the image of God but this does not make him divine or a little god. Only God and His Son have a divine nature. Christ is the only begotten Son and the only incarnation of God. In Him dwelt the fullness of the Godhead bodily. (Colossians 2:9) Jesus gave up the glory of heaven by becoming a man but not His divinity although He did choose to empty Himself of His power while walking the earth as man. (Philippians 2:5-9)
Countless people are being deceived by the faith healing movement by causing them to grasp after a way of life and faith that is unbiblical. At its core is the same lie Satan has been telling since the Garden, "you shall be as God" (Genesis 3:5). Sadly, those who buy into this movement are still listening to him. Our hope is in the Lord and not in our own words and not even in our own faith. Our faith comes from God in the first place and is not something we create for ourselves. We need to be wary of this movement and any Church that aligns itself with the word of faith teachings.
Other Word of Faith names
There are many names associated with this movement such as "Word of Faith Ministries", "Positive Confession", "Faith Healing" and the well known "Name it and Claim it." Most of the faith healing leaders have written books under these various names but all have the same principles behind them. In other words, the underlying theology is generally the same, that is, "we create our own realities by what we say, by speaking 'power' into our words spoken through faith in God."
As the name "Word of Faith" implies, this movement teaches that faith is actually a matter of what we speak more that whom we trust or what truths we embrace and affirm in our hearts. A favourite term used by this movement is "positive confession." This phrase refers to the teaching that words have creative power. In other words, what you say is what these teachers claim governs everything that happens to you. Your "confessions," that is, the things you say and especially the favours you "demand" of God must all be stated positively and without wavering. Then God is "required" to answer. One might also ask how the false gift of speaking in tongues comes into play here! [Charismatic Chaos, p. 281.] So word of faith beliefs are that your positive confessions are an incantation by which you can conjure up anything you desire, "Believe it in your heart; say it with your mouth. That is the principle of faith. You can have what you say." [Charismatic Chaos, p. 285.]
Kenneth Copeland is perhaps the best known proponent of the "little gods" teaching. He says Jesus told him; "Don't be disturbed when people accuse you of thinking you are God … They crucified Me for claiming I was God. I didn't claim that I was God; I just claimed that I walked with Him and that He was in Me. Hallelujah! That's what you're doing…"
Thus Ken Copeland is denying the uniqueness of Christ in saying that Christ was not God and only that He walked closely with God. And as Ken Copeland also says, so does he! Ken Copeland thereby places himself on the same level as Jesus Christ blurring the distinction between the will of God and the will of Copeland. Ken Copeland seems to think that he and Jesus have about the same authority for the believer.
Below are a few quotes from leaders in the word of faith healing movement. Does the Word of God support these statements? Would a person that was truly led by the Holy Spirit make such statements? Before reading the following quotes, consider first what the Bible refers to as blasphemy.
John 10:33 reads, "The Jews answered him, saying, For a good work we stone you not; but for blasphemy; and because that you, being a man, makest thyself God."
Blasphemous Quotes from Word of Faith Preachers
"I say this with all respect so that it don't upset you too bad, but I say it anyway. When I read in the Bible where He [Jesus] says, 'I Am,' I just smile and say, 'Yes, I Am, too!'" — Kenneth Copeland, "Believer's Voice of Victory", broadcast on TBN, recorded July 9, 1987.
"You don't have a god in you, you are one." — Kenneth Copeland, "The Force Of Love", audiotape #02-0028, Kenneth Copeland Ministries, 1987.
"God's on the outside looking in. He doesn't have any legal entree into the earth. The thing don't belong to Him. You see how sassy the Devil was in the presence of God in the book of Job? God said, Where have you been? Wasn't any of God's business. He [Satan] didn't even have to answer if he didn't want to…God didn't argue with him a bit! You see, this is the position that God's been in…Might say, 'Well, if God's running things He's doing a lousy job of it.' He hadn't been running 'em, except when He's just got, you know, a little bit of a chance." — Kenneth Copeland, "Image of God in You III," audiotape #01-1403, Kenneth Copeland Ministries, 1989.
"And let me add this: Had the Holy Spirit not been with Jesus, He would have sinned. That's right, it was the Holy Spirit that was the power that kept Him pure. He was not only sent from heaven, but He was called the Son of Man and as such He was capable of sinning… Without the Holy Ghost, Jesus would have never have made it… Can you imagine Christ headed for the grave, knowing He would remain there forever, if the Holy Ghost would change His mind about raising Him from the dead?" — Benny Hinn, Good Morning, Holy Spirit, Thomas Nelson, 1990, 135-36.
"I am a 'little messiah' walking on earth." — Benny Hinn, "Praise-a-thon Program" on TBN, broadcast November 6, 1990.
Faith Healing Movement Origins
This faith healing movement is undoubtedly the fastest growing movement within the professing Church today. It has involved two distinct but closely related groups, the Peale and Schuller positive, "possibility thinkers" with their roots in "New Thought" and the Kenneth Hagin and Copeland "Positive Confession" and "Word of Faith" groups, which have their roots in E.W. Kenyon, William Branham and the Manifest Sons of God and Latter Rain Movement.
You are about to discover that there are many serious issues with their teachings and the examples given above that create God in another image are only one, which is not only unbiblical but blasphemous. We must be very careful to avoid teachers redefining or re-creating God in another image.
In Kenneth Hagin's book, Having Faith in Your Faith [Kenneth Copeland confesses that Hagin's tapes and books revolutionized his ministry], Hagin teaches that anyone can develop universal "laws of faith" to get what he wants. Hagin teaches that for a pastor or anyone to drive a Chevrolet instead of a luxury car isn't "being humble, that's being ignorant" of God's "law of prosperity" that works for "whoever you are," saint or sinner. The cry of the Positive Confession movement is "Have faith in your faith." This is a far cry from what Jesus taught which is "Have faith in God." [Charismatic Chaos, p. 281.] Ken Copeland's book, "The Laws of Prosperity" teaches the same concepts. Copeland reported in the 2-15-93 Calvary Contender that "It would have been impossible for Jesus to have been poor!"
Kenneth Copeland exhorts that Adam was "created in the god class," that is, he was a reproduction of God, "He was not subordinate to God, but was walking as a god with the authority of a god. What he did, counted. And when he bowed his knee to Satan and put Satan up above him, there wasn't anything God could do about it, because a god had placed Satan there." When Adam committed high treason, according to Copeland, even though "created in the god class," he fell below the god class, but on the cross, Jesus Christ won the right for believers to be born again back into the "god class." Jesus' deity, according to Kenneth Copeland encompasses "deliverance, healing, financial prosperity, physical prosperity, mental prosperity and family prosperity." And because believers are now back in the "god class" again, then they are guaranteed these blessings right here and now. — Charismatic Chaos, p. 272.
Kenneth Copeland teaches, as do all the word of faith teachers, that "Jesus Died Spiritually." What makes their version of "Jesus Died Spiritually" heresy and blasphemy is their teaching that our redemption comes not from Jesus Christ's death upon the cross, but from His being tortured by Satan in hell for three days and nights. Ken Copeland has thus embraced a heresy known as the "Ransom theory of the atonement." It is the view that Jesus Christ's death was a ransom paid to Satan to settle the legal claim the devil had on the human race because of Adam's sin. But that view contradicts the clear Biblical teaching that Jesus Christ's death was a sacrifice offered to God, not to Satan. — Charismatic Chaos, p. 278.
Ephesians 5:2 "And walk in love, as Christ also has loved us, and has given himself for us an offering and a sacrifice to God for a sweetsmelling savour."
Ken Copeland for example says, "He allowed the devil to drag Him into the depths of hell as if He were the most wicked sinner who ever lived…Every demon in hell came down on Him to annihilate Him… [They] tortured Him beyond anything that anybody has ever conceived … In a thunder of spiritual force, the voice of God spoke to the death whipped, broken, punished spirit of Jesus … [in] the pit of destruction and charged the spirit of Jesus with resurrection power! Suddenly His twisted, death wracked spirit began to fill out and come back to life … He was literally being reborn before the devil's very eyes. He began to flex His spiritual muscles … Jesus Christ dragged Satan up and down the halls of hell … Jesus … was raised up a born-again man … The day I realized that a born again man had defeated Satan, hell, and death, I got so excited … !" — Believer's Voice of Victory, September 1991.
It is absolute nonsense and heretical to teach that our redemption comes through Satan torturing Jesus Christ in hell. That would make Satan our co-redeemer. If he didn't torture Jesus enough, we wouldn't be saved and if he did, do we thank Satan? Unbelievable! Satan is NOT even the proprietor of hell. He hasn't even been there yet. Nor will Satan torture the damned but will himself be tortured with "everlasting fire, PREPARED for the devil and his angels" (Matthew 25:41) when death and hell are "cast into the lake of fire" (Revelation 20:10).
Matthew 25:41 "Then shall he say also unto them on the left hand, Depart from me, you cursed, into everlasting fire, prepared for the devil and his angels:"
Revelation 20:10 "And the devil that deceived them was cast into the lake of fire and brimstone, where the beast and the false prophet are, and shall be tormented day and night for ever and ever."
In John 19:30, Jesus cried in triumph just before He died, "It is finished," indicating that our redemption had been accomplished on the Cross. Jesus also said, "Father, into thy hands I commend my spirit" (Luke 23:46). Despite this Ken Hagin and Copeland, etc, say Jesus ended up in the hands of Satan in the depths of hell instead! — Berean Call 5/93.
The word of faith teachers owe their ancestry to non-Christian groups such as Christian Science, Science of Mind, Theosophy and New Thought and not to that of orthodox Pentecostalism. It reveals that their teachings are corrupt right to their very core. Their undeniable derivation is cultish, not Christian. The sad truth is that the gospel proclaimed by this movement is not the gospel of the New Testament. The word faith movement doctrine is a mongrel system that is a blend of dualism, mysticism and Gnosticism that borrow generously from the teachings of the metaphysical cults. This movement may be the most dangerous false system that has grown out of the charismatic movement so far. — Chaos, p. 290.
The Faith Healing Movement – My Story
Do you remember the so called millennium bug? Like many, I certainly never believed it but in the year 2000 my wife and I caught it! This bug was never diagnosed but it was sinister and had my wife very ill for six weeks and had me struggling for life the entire year and then some. It was not long before our bed moved into the lounge room where I would record and watch all the early morning religious programs. These included Benny Hinn and Ken Copeland etc. These inspired my faith as I watched all the many people get healed of various afflictions, and so I too stood firm in my faith and claimed my healing. Six months on and even more ill, I continued to stand firm and unwavering in my faith.
One Sunday morning, a program called the "Sunday Morning Show" did a documentary on Benny Hinn who gave them permission to come in and record one show which he would choose. As usual, many people went forward claiming that they were healed which continued to help reinforce my faith and warmed my heart to see all these people saying that they were healed. This documentary kept track of the people from that show who said they were healed but within a few months… ALL these people were dead! I thought to myself, "How could this be true? How has this show pulled off this deception?" I just did not want to believe what they had shown. Some of the relatives asked Benny Hinn if he would come and pray for their loved one again as their health deteriorated and for an extremely large fee, he agreed. A little bit different to what we see in God's Word.
Acts 3:6 "Then Peter said, Silver and gold have I none; but such as I have give I you: In the name of Jesus Christ of Nazareth rise up and walk."
It took some time for me to come out of my denial of what I did not want to see and I realized that this Sunday Morning show only had one meeting to work with which Benny Hinn himself chose and that these people were indeed dead. There was no hoax other than the fact that these people were not really healed in the first place. These were just dear Christian folk that so desperately wanted to be healed and figured if they could just get up there on stage with Benny Hinn that they would be. I for one know how they felt.
It was not too much longer when Benny Hinn came to Australia and a lady my wife knew took her friend who was ill with an incurable disease to one of his meetings. The lady's friend asked if she could go up on stage but she was turned away with the statement, "you are too ill to go up on stage." They were carefully screening everyone, and only those who where happy to claim their healing publicly where allowed up there. It was at this point that my eyes were fully opened and it became obvious that as those who could claim to be healed would go up onstage, the buckets would get passed around, bringing in millions of dollars that now has Benny Hinn living in a multi million dollar mansion. The rest of us are obviously in the wrong job as there are clearly millions of dollars to be made from the suffering of people who are desperate for their miracle and will just about believe anything in an effort to regain their health.
The Word of Faith Movement Kills
So how can this faith healing teaching cost one their life as I stated previously? In 2002 as I still continued to regain my own health, I found out that my father had a cancerous lymph node in his neck. My parents were followers of Benny Hinn and especially Ken Hagin and Ken Copeland. Their solution was to do as the Copeland's had taught them which was to "name it and claim it" and stand firm in faith claiming that my father had been healed and they were just now waiting for the manifestation of the healing to take place. As well as my father standing in faith, he also continued with an even healthier diet that he had maintained almost his whole life and added all sorts of healthy juicing, raw foods and other super foods and supplements that have been known to be beneficial against cancer. During this time a mole on my father's shoulder also grew cancerous and the treatment remained the same. "Name it and claim it" and stand in unwavering faith believing that God will always heal. The idea of seeking medical help appeared to them as showing a lack of faith.
Many family members and others were not initially told because of the Copeland and Hagin teaching, which very much has an occult flavour in its belief system, where they feel that if someone's prayer is of what they would call a negative prayer, that it would affect him and his healing and so they would have to pray and break the words of this other person's prayer. This is so sad. God does not base His decision to heal on someone else's faith or prayers in that manner even if they were negative.
This false teaching says there is power in words but not in the context of what the Bible is referring to. "Hyper faith" or "word of faith" teachings, claim that believers can "name it and claim it" or speak their desires into existence (similar to meta physical teachings) and attribute power to words as if they were "containers" of faith, with power in and of themselves. This is also called "positive thinking" or "possibility thinking" in the milder though still unbiblical sense. If words were little containers of faith and power, I guess we could just say I am winning the lottery tonight and it would happen. What do you think? Would it work? Obviously not but this is effectively what many believe but they never apply it in that sense.
In early April 2008, my father woke up in the early hours of the morning and was struggling to breathe and through no choice was taken to hospital. My mother and father were still totally unmoved and did not waver a single inch in their faith as the Copeland's and the Benny Hinn's of this world have taught. This continued right to my father's death where my mother was still unprepared to accept what had happened and spent most of the day trying to raise him from the dead, again as a result of what was taught by the Ken Copeland and Hagin ministries and others like them.
My father was very strong and healthy right down to the final weeks and he had six years to get medical help that would have almost certainly saved his life. It would have been a simple operation to have removed the cancerous lymph node and the cancerous mole. This mole grew close to the size of a grapefruit and caused my father a lot of pain and suffering but was still unmoved because of the false teaching my parents had so heavily taken on board. It was so hard to see my father suffering unnecessarily.
So why is my father that we all loved so much dead today? Because he trusted and followed the unbiblical teachings of this word of faith heresy and these so called faith healers. This dangerous and heretical movement is not only causing the death of many people who do not seek medical help when they should but is also devastating the faith of those people left behind to pick up the pieces. Through the resulting loss of their faith it is not only mortal lives being lost but also the eternal salvation of the souls left behind as well. There is nothing more serious than losing your soul and salvation. Only time will tell what is going to happen with my mother and I will now have to pray that my mother sees the truth about this "name it and claim it" healing and prosperity teaching and attempt to show her what the Bible truly says.
Faith and Positive Confession does not Guarantee Healing
While the practice of quoting what people call healing scriptures and standing in unwavering faith is an excellent practice and biblical in itself, the Bible clearly shows that this still does not guarantee healing right here and now. We all have to die sometime and what is it we all die from? Is it illness? The promise of physical healing will not truly be experienced until our immortal body puts on immortality in the twinkling of an eye at the second coming of Christ. (1 Corinthians 15:52-54)
Based on the principle of standing on one or more scriptures as if it guarantees healing now, while ignoring other clear black and white scriptures that show healing is not always guaranteed now, would mean I could therefore also live a life were I could murder, steal, take the Lord's name in vain, abuse children and practice homosexuality etc, and all I would need to do is stand firm in quoting John 3:16 which I am sure we all know but let's quote it anyway.
John 3:16 "For God so loved the world, that he gave his only begotten Son, that whosoever believeth in him should not perish, but have everlasting life."
According to this scripture I will have everlasting life with Christ providing I just believe in Him. I will still be able to live any lifestyle I want and it will not make any difference whatsoever. Is this true or are there other scriptures that would add to this that would tell a different story? Obviously there are. I can no more quote John 3:16 as my salvation scripture and expect to have everlasting life than I can quote one or more so-called healing scriptures and expect to be guaranteed divine healing. We need to take the WHOLE Word of God and see what it truly says in its entirety in regards to healing.
Below are a few scriptures to ponder and if you want to study the topic of what the Bible truly says in regards to healing you can read the in depth document on "faith and does God heal today"
2 Corinthians 12:7-10 "And lest I should be exalted above measure through the abundance of the revelations, there was given to me a thorn in the flesh, the messenger of Satan to buffet me, lest I should be exalted above measure. 8 For this thing I besought the Lord thrice, that it might depart from me. 9 And he said unto me, My grace is sufficient for you: for my strength is made perfect in weakness. Most gladly therefore will I rather glory in my infirmities, that the power of Christ may rest upon me. 10 Therefore I take pleasure in infirmities, in reproaches, in necessities, in persecutions, in distresses for Christ's sake: for when I am weak, then am I strong."
Galatians 4:13-15 "You know that it was because I was ill that I brought you the gospel the first time. 14 Even though my condition put you to the test, you did not despise or reject me. On the contrary, you welcomed me as if I were an angel of God, as Christ Jesus himself. 15 What, then, happened to your positive attitude? For I testify that if it had been possible, you would have torn out your eyes and given them to me."
Philippians 2:25-27 "Yet I considered it necessary to send to you Epaphroditus, my brother, fellow worker, and fellow soldier, but your messenger and the one who ministered to my need; 26 since he was longing for you all, and was distressed because you had heard that he was sick. 27 For indeed he was sick almost unto death; but God had mercy on him, and not only on him but on me also, lest I should have sorrow upon sorrow."
1 Timothy 5:23 "Stop drinking only water, and use a little wine because of your stomach and your frequent illnesses."
2 Timothy 4:19-20 "Greet Prisca and Aquila, and the household of Onesiphorus. 20 Erastus stayed in Corinth, but Trophimus I have left in Miletus sick."
1 John 5:14 "And this is the confidence that we have in him, that, if we ask any thing according to his will, he heareth us:"
This site on the dangers and heresies of the word of faith movement and false faith healers is dedicated to the memory of my father who was a true man of God and respected by many people for the various ministries he established and served in over the last few decades. He was an excellent father and husband and no one could ask for a better father and I am proud to be able to say that he was my DAD.